The forest is a universally recognisable and symbolic setting, known and remembered from childhood stories, myths and fairytales as a placeholder of personal and cultural memories. Inside a forest we can feel both comfortable and uncomfortable, sheltered and enclosed, at times distanced from the built environment beyond.

Our sound and image sequences intimate the forest's complex mythological make-up, from its dark, nightmarish aspects to its tranquil and protecting qualities. Recordings made at varying heights and perspectives and at different times of the day and night, are used to explore ways our memories, thoughts and feelings change over time.

These topological views capture natural patterns in the forests and represent events that take place alongside them. The sequences record one-point perspectives, using pathways and clearings to compose images that direct the viewers' attention and focus their gaze on the narrative potential of the scene.

As the viewer looks, listens and traces patterns from one sphere or sound fragment to another, we hope the gaps left in the images and sounds might trigger new journeys of the mind; that in spaces between spheres new patterns will be completed and new memories and associations formed.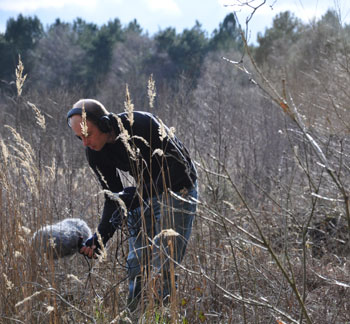 Sound recording at Allerthorpe Common Nature Reserve, April 2010